Famous love triangles of Bigg Boss over the years
If you're humming Elton John's Three Way Love Affair now, you're on the right track (pun intended). Because…well, we are talking about the famous love triangles of the controversial reality show, Bigg Boss, over the years. Want to know which couples upped the TRPs with their love, affection and dhoka? Read on…
Anupama Verma-Aryan Vaid-Ragini Shetty:
We kick off the series with the threesome from season one. Ragini Shetty, an unknown name till Bigg Boss happened, started liking the hottie of the house, Aryan, who proposed to his dearest Anu. Unfortunately, even their relationship did not last.
Payal Rohatgi-Rahul Mahajan-Monica Bedi:
Reports suggested that even before entering the house, Rahul and Payal were dating each other. The telltale signs were quite evident from the special pool activities of Rahul and Payal (wink wink). But, alsa! Rahul shifted his focus to Monica, which did not go down well with Payal, resulting in their break up. Ouch.
Claudia Ciesla-Bakhtiyaar Irani-Tanaaz Irani:
Hats off to this man, really! Not every married man will have the guts to have fun with a foreign beauty, while his wife was in the house as well! Remember their famous pool scene?! Soon after the incident, Bakhtiyaar received some strong words from wifey dear Taanaz. Thankfulle, he was clever enough to mend his ways.
Sara Khan-Ashmit Patel-Veena Malik:
Well, we are not sure whether this one can be termed a love triangle or a quadrangle. Sara and Ashmit were the inseparable pair of the house, before Sara got eliminated. By the time Sara returned, Ashmit had shifted his attention towards Pakistani actress Veena, making Sara his little sister. If that wasn't enough, Sara got married to her longtime partner Ali Merchant on the show, with the blessings of her elder bro. We rest our case.
Shonali Nagrani-Siddharth Bhardwaj-Vida Samadzai: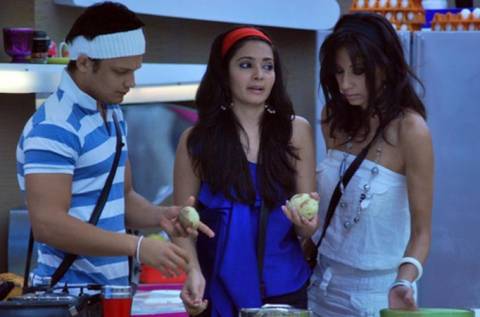 This young man does not believe in wasting time and his talent. Siddharth has been blessed with good looks and flirting skills. So, without wasting even a single second on the show, he started flirting with both desi girl Shonali and foreign beauty Vida. As soon as the season ended, all of them decided to walk their separate ways.
Sana Khan-Rajev Paul-Delnaaz Irani:
Season six of Bigg Boss witnessed many love triangles. Many wished that separated couple, Delnaaz and Rajev's, story would take a turn for the better, but Rajev became too busy impressing Sana. Post Bigg Boss too Rajev continued to grab Sana's attention, but the lady friend-zoned him. Oops!
Vishal Karwal-Sana Khan-Rajev Paul:
While dating Rajev, Sana got completely bowled over by the new hunk in the house Vishal Karwal. As soon as he came into the house as a wild card entrant, Sana shifted her attention towards him. Obviously, this did not make Rajev happy at all.
Niketan Madhok-Karishma Kotak-Vishal Karwal: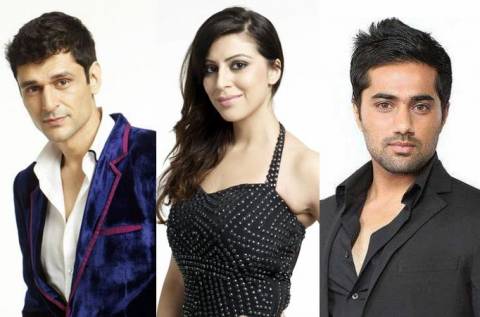 Sana's attention showering went pretty much unnoticed on Vishal, who shifted his attention to model Karishma Kotak. Present in the season was Karishma's ex-flame Niketan Modhak, who maintained a gentleman-esque dignity without losing his calm, and supported Karishma in her decision. After dating for a while, Karishma and Vishal broke up a few months back.
Kushal Tandon-Gauahar Khan-Ajaz Khan:
This one is a perfect case of ek phool do maali. Though Ajaz left no stones unturned to woo Gauahar, his antics had no effect on the pretty lady. Bad luck, Ajaz. On the other hand, the cool dude of the season, Kushal, won brownie points when he stood up for Gauahar's honour and 'almost' left the show. Even this couple could not stand the test of the time.
Sonali Raut-Upen Patel-Karishma Tanna: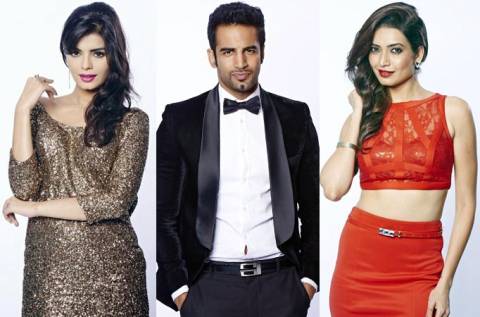 Sonali fell head over heels in love with Upen, who also gave her due attention (only for a small period of time). Then the super-hot model got completely smitten with Karishma and the rest is history. The duo is the only couple from Bigg Boss who are still very much together.
Diandra Soares-Gautam Gulati-Sonali Raut: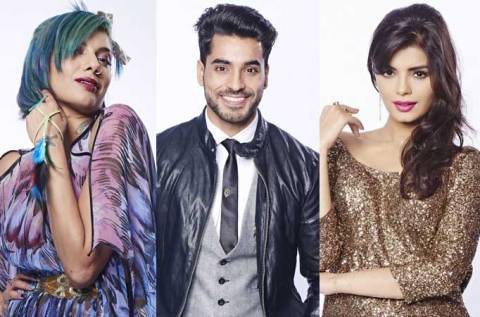 We do not blame the ladies in this case. With a handsome and stylish man like Gautam in the house, it's hard not to lose their heart. Diandra and Sonali were no exceptions. While Diandra and Gautam's PDA raised many eyebrows, the buzz eventually died with the end of the program.
Unfortunately, even after grabbing many eyeballs, none of the couples could manage to stay together.
Is there any couple whom you would like to see back together once again? Let us know.