Gurmeet, Debina celebrate their daughter's first b'day, call her a 'blessing'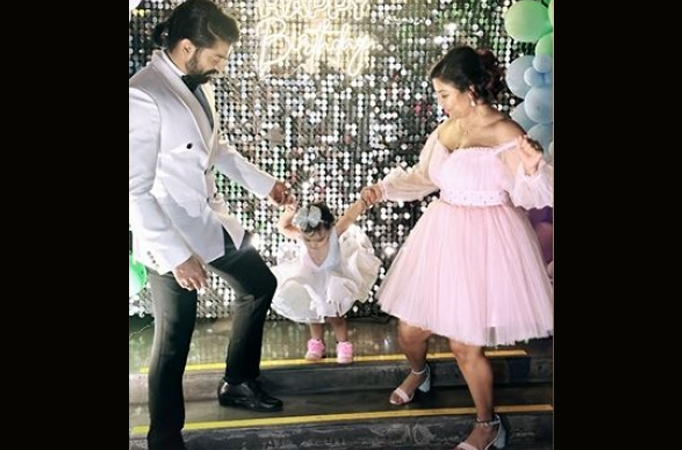 MUMBAI : Popular TV couple Gurmeet Choudhary and Debina Bonnerjee celebrated the first birthday of their daughter Lianna in Kolkata. Debina said that her daughter has
made their life beautiful and there was never a dull moment after her birth.
She added that she decided to celebrate her birthday in Kolkata so that their second daughter Divisha's rice ceremony can also be done with the family.
The couple welcomed their first child, Lianna on April 3, 2022. Debina shared several pictures with her daughter.
She said: "I have been planning this event ever since Lianna was born, I wanted both my daughters to seek blessings from all the seniors in my family and celebrate the
rice ceremony of daughter Divisha with them. It was a dual celebration and I am so happy that whatever I planned over the past so many months was executed perfectly."
Debina posted an adorable picture of her daughter in a pink dress and wrote in the caption: "And like that she turns 1. Since the time that you have come into our lives,
there never has been a dull moment."
Gurmeet also added: "I have visited Kolkata multiple times and it's my favourite city. It was an amazing experience to meet all our close relatives and seek their
blessings. Lianna has been nothing less than a blessing in our life and I just can't believe that it's already been a year since she came into our life."
Gurmeet made his Bollywood debut with the psychological thriller and horror, 'Khamoshiyan', and he is known for his portrayal of Rama in 'Ramayana'. On the other hand,
Debina played 'Sita' in 'Ramayan'. She also did serials such as 'Chidiya Ghar' and 'Vish: A Poisonous Story'.
SOURCE-IANS