Decoding the bridal look of Tina Datta aka Surilli from Hum Rahe Na Rahe Hum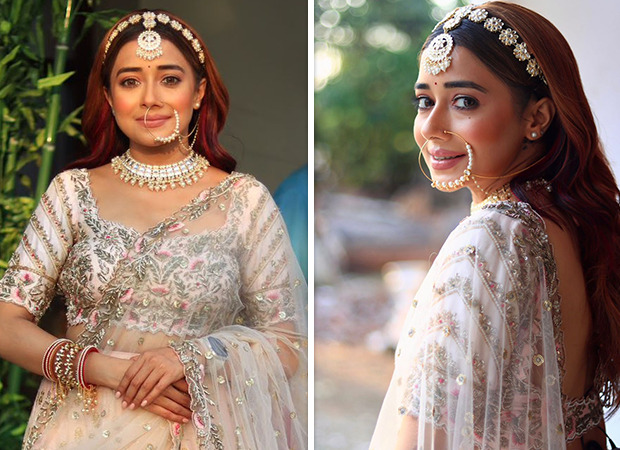 ringing together the never-seen-before pairing of Jay Bhanushali and Tina Datta, the show Hum Rahe Na Rahe Hum kicked off with much fanfare a few months ago. The show recently saw Tina's character Surili and Jay's character Shivendra tied the knot against the latter's mother's wishes since he belongs to a Royal family. Just like many other brides on Indian Television, Tina opted for a traditional look in lehenga choli and opted for a light colour as per the ongoing trend.
While shooting a wedding sequence in Hum Rahe Na Rahe Hum, Tina Datta shared some images of her dressed as a bride. Tina not only looked elegant but also ethereal in her pastel-coloured lehenga with intricate embroidery, statement jewellery, and minimal makeup. Surilli, aka Tina was a perfect dreamy bride for the royal Shivendra aka Jay Bhanushali.
Sharing all details behind this particular look, Tina revealed, "Nidhi- the stylist, Gayatri Ma'am- the producer, and I decided to keep the outfit simple and subtle. Surili doesn't wear very loud or bright colours and she is very today's girl. Keeping makeup and hair in mind, they wanted to keep it subtle yet elegant because less is more nowadays. And the more natural you are, the more your skin shows and the more it looks good on camera. It was teamwork between Nidhi Gayathri Ma'am and me."
Further, Tina also appreciated the Yeh Lehenga Nahi Mehenga brand for sourcing her bridal ensemble. "Honestly, it was difficult to source because most of the designers don't wish to use it in daily soaps. But Yeh Lehenga Nahi Mehenga is a brand that decided to give it to us. So really, really grateful. They have some stunning outfits," Tina concluded.