I was a bookworm and girls back then bullied me that my face was not pretty enough to become an actress: Bhagya Lakshmi actress Bebika Dhurve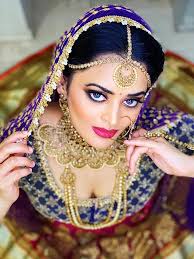 Bebika Dhurve plays the role of Devika Oberoi in Zee TV show Bhagya Lakshmi. The show stars Rohit Suchanti and Aishwarya Khare in the lead roles and Bebika plays a pivotal role in the show. In an exclusive conversation, Bebika opened up about her journey in the industry and for she is so admirable, shared some beauty tips as well!
Take a look:
What was your life before an actor?
I was a book worm and academically into sports and never dreamt of being an actor and all girls used to bully me and tell me on my face that I was not pretty enough to even think of it and until then I had to proof my education and completed my degree, I worked 3 years as a dentist and simultaneously I was auditioning and also lived as a front liner for 2 years away from my family and living in a hotel, my life was totally different from glamour and suddenly I jumped into it.
Was your family okay with you perusing another profession?
My family is completely orthodox, none of my sisters ever even thought of getting further education and the only option they had was to marry and settle down and I was big time rebel in the family, so things were not easy for me , and even today my dad says he will not be happy if I leave doctor.
Do you think apart from acting there should be another profession?
It is a very unpredictable profession , especially when it comes to monetary consistency, I make sure to be a good example in my family and educate myself first and acting can be taken as a serious profession but there should be modality.
Are your siblings proud of you?
Well most of them have a generation gap in me and understand me as a modern millennial and they are at different age groups and even today I don't get full support but that's okay and eventually I'll keep doing .
What do you do to keep yourself fit and going?
I was just an obese girl and last year I was 88 kgs and I lost 20 kgs and I still have a target of 10 more kgs and I did all this without going to the gym and I swear by yoga, I can do 100 suryanamaskars a day in one go and having good diet and I am also health care professional but when I can't control my cravings I make sure I exercise more.
What is your beauty regime?
It doesn't include much procedure and my mom never did anything to her face and I usually moisturise my face a lot and besides that I don't do anything and besides that I do clean up once a month.
What are the products you swear by?
Any basic moisturiser Vaseline or Nivea would work great for me and when it comes to makeup I am a huge fan of Faces Canada and Mac, but in general I prefer organic products.
Any homemade regime you would like to share?
My mother makes an oil from 8 different essential oils and besides that multani mitti and rose water and haldi.
What will you do to enhance your beauty to make a man fall in love?
I am very aware that my beauty will fade away with time and I am a person I would never do anything artificial, I am very stubborn in that matter and one thing I will do is keep my character intact and that is something I would work for and make a man fall in love with me.
What do you do when you really need to look best for a big event?
I need to hire an entire army of stylists and makeup artists and if you leave it on me it's going to be stressful , but I make sure I get 8 hours of sleep, hydrate myself and I listen to the best classical music which keeps my mood pretty soothing.
Have you ever had beauty disasters?
Growing up I had one because I was not a pretty kid at all and anything that I have been through is I have a slight birth mark on my face and I was very unsure about it and for it I got laser sessions done .
What is that one thing you have to wear on your day out?
My hoodies, I am still a tomboy deep down , on camera I am Devika with full glamour and as soon as I reach home I am in my hoodies .
What is your night beauty regime?
Moisturiser and drink 1 litre water and sleep.
What is your beauty mantra?
Your real beauty and emotions are expressed with your eyes so I make sure I bring the best out of them and so eye makeup is something I focus on and ofcourse good sleep , having a bright smile and emotive eyes is a one beauty mantra.
Well said Bebika!