The character is very strong and I hope I be that confident in real life as well: Sapna Thakur on experience shooting for Zee TV's Kyun Rishton Mein Katti Batti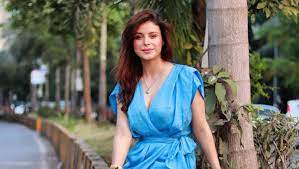 Sapna Thakur has been in the industry for a long time now.
He has done some unconventional projects and has been a visual delight to watch.
Currently, she is seen in Zee TV's Rishton Mein Katti Batti on Zee TV and we must say, we love how she captivated the masses with her acting skills and heartwarming looks. She is surely an eyecandy to the audience. In an exclusive conversation, Sapna indulged in a candid interaction.
Take a look:
What made you say yes for this show?
I always wanted to do a character which is strong and Samira was all of that and talk about preparation nobody can teach you how to be bad, it's just that go there everyday and I have good friends there and my coactors and my director, they have been helping me to be Samira everyday.
How do you'll deal with creative differences on the set while shooting?
To deal with creative differences, you just give your 100% and there are no differences and you just do your job.
Tell us the thing u like most about your character…
The character is very strong and I hope I be that confident in real life also.
How is your look different than what you have done in the past?
I don't think the character is different it's just that it has many shades and different looks and the character had many ups and downs , she fell in love and how she went crazy for that person and that is the thing which is different from other characters.
How do you think Kyun Rishton Mein Katti Batti has changed your career?
Everyday you learn and you grow, every role you do it changes your life , your experience and I don't think so it changes me but I have learnt a lot , I think I can do better onwards.
Well said, Sapna!