"Your wish, my command", says Amitabh Bachchan as Kaun Banega Crorepati fulfills wishes this week through its unique initiative 'Asha Abhilasha'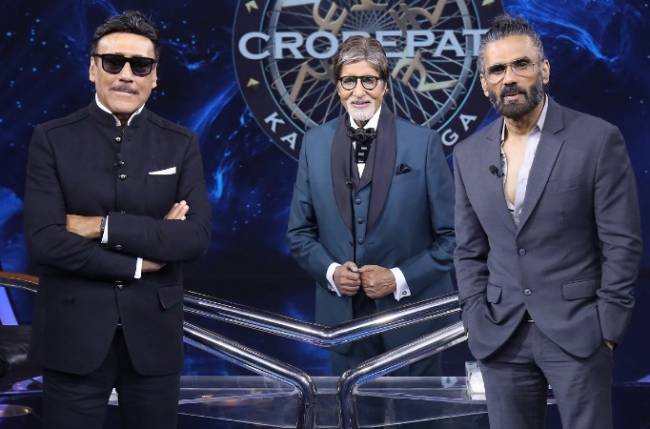 This week host Amitabh Bachchan becomes Kaun Banega Crorepati 13's magical genie! The show has been a platform that has turned various contestants' dreams into realities. This week KBC 13 will be kickstarting a special initiative namely 'Asha Abhilasha' wherein Mr Bachchan would be fulfilling the wishes and dreams of the contestants and the live audience. From speaking to your favorite celebrity to getting Mr. Bachchan enact his famous lines, for this week "your wish, is Mr Bachchan's command!"
Introducing the initiative Big B spoke about how there is not one person who would not want his heart's desire to be quenched, "this week is dedicated to this precious happiness on Kaun Banega Crorepati. We have named this event, "Asha Abhilasha." Asha Abhilasha, is an effort to fulfill any one wish of the studio audience, the contestants and or the viewers by saying your wish, my command!"
Putting the initiative into effect, contestant Pankaj Kumar Singh who is suffering from ankylosing spondylitis, requests Big B to fulfill his wish by assuring his parents that they should not worry about him, take care of themselves as he will do the same for himself and make them proud. Not only this, Pankaj who is a huge fan of Genelia D'Souza has his dream fulfilled on the show. A surprise over a video call, a blushing Pankaj Kumar Singh couldn't believe his luck when he saw Genelia D'Souza. He said, "all my dreams are getting fulfilled today! There is nothing more to achieve in my life now!"* Anjali from Make A Wish Foundation India's wishes were also fulfilled when she got to meet Amitabh Bachchan whose movies, 'Bhoothnath', 'Sholay' and 'Mohabbatein' she adores. Anjali was also the lucky girl who got to ask Mr Bachchan about his childhood, turning into an ace interviewer. In the end, she was gifted with a hamper from the host. Adding more, Big B also sung, Rang Barse
Contestant Oshin Patwa, a social media influencer, asked him questions about his social media persona Pranshu Tripathi, another player for the win and a die heart fan of cricketer Rohit Sharma was also given a chance for a tete-a-tete with the sportsman.
Mr Bachchan also turned into desi Santa Claus for Bollywood superstar Jackie Shroff who came to the show with the celebrated actor Suniel Shetty. Tipping his hat to the initiative, Jackie dada asked if he could match steps with Big B himself on his iconic song "Jumma Jumma". In the end, Jackie Shroff was also gifted with Amitabh Bachchan's own tiebow.
Tune in to Kaun Banega Crorepati, every Monday to Friday at 9:00pm only on Sony Entertainment Television.