Who is This ADORABLE Marathi Porgi on the sets of Ghum Hai Kisikey Pyaar Meiin? Check out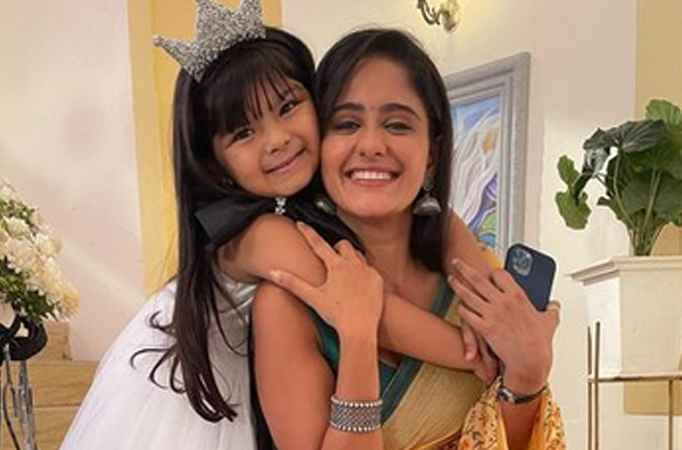 MUMBAI: Tvnation is back with yet another BTS update from your favorite show Ghum Hai Kisikey Pyaar Meiin. Ayesha Singh, Neil Bhatt and Aishwarya Sharma play the characters of Sai, Virat and Pakhi respectively. The equations between the lead trio are everchanging. Ghum Hai Kisikey Pyaar Meiin has managed to remain amongst the top most shows in TRP ratings with its gripping plot and excellent and skillful acting by its entire cast.
The audience loves to watch the trio of Virat, Pakhi and Sai, trying to juggle their life as new challenges keep pouring in.
However, we are of the understanding that the episodes of the show are not the only thing that interests our audience and they love to know what goes on off-camera on the show too!
As we know that Savi's birthday track will be shown on the show and Savi being the adorable birthday girl that she is, she definitely deserves a grand celebration.
However, looks like one of Aria Sakaria aka Savi's looks for the sequence could be that of a Marathi porgi and she is looking adorable in this Navvari saree. We came across some of her pictures behind the scenes and Aria captioned the post as, "Some #bts from savi's birthday"
We must say if this is one of her looks for the sequence, she is dressed up perfectly and we can't wait to see the episode.
Meanwhile on Ghum Hai Kisikey Pyaar Meiin, Savi and Vinayak are performing a group project together that has already created a lot of drama.Pakhi thinks that Virat is making his way to get back with Sai.
So Virat and Pakhi engage in a huge fight. Later, Vinayak asks for permission to go to the picnic along with Savi and Sai.Pakhi says it's ok to go and plans for the picnic to be special for her son.
But Virat makes it clear that she can't come along because she has created enough drama.